Product name: Pixel illuminator-C

We supply functionality on microscope

Feature 1: Direct connection to camera port of microscope
•No additional attaching tool is necessary
•No user alignment is necessary
Feature 2: Laser manipulation control on GUI
•
Illumination points or illumination boundary is set by mouse clicking on the image
Application
•
Optogenetics

•

Laser cell screening

•

Photoporation (make hole on the cell surface)

•

Laser marking

Pros/Cons against DMD mirror method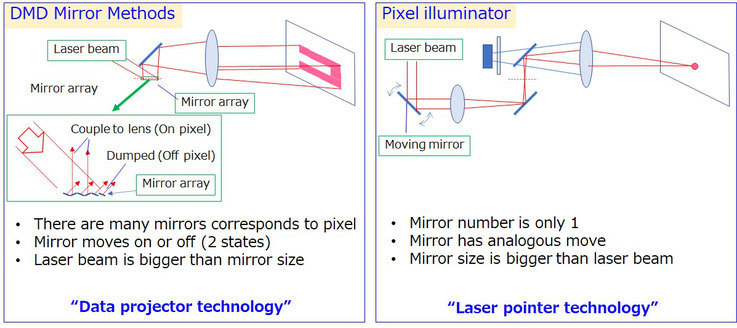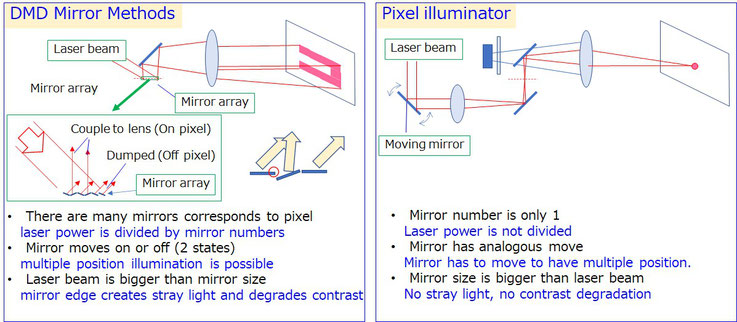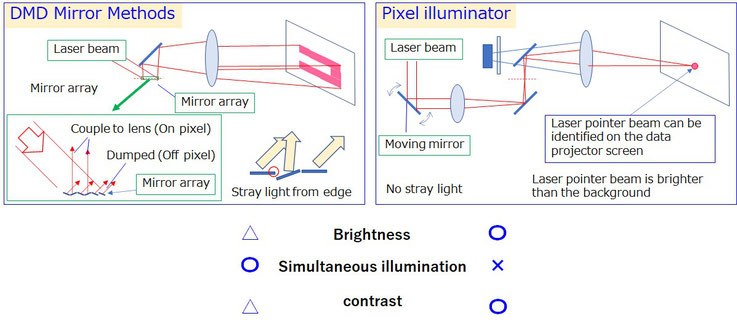 Methods of improve of Simultaneous illumination

Methods of improve of Simultaneous illumination (2)
Using two beam scanning system (ordermade)
Laser beam illumination profile can be controlled with 1msec resolution.
The beam size enlargement with focus adjustment unit can be applied independently.

Demo Movie 1 CW laser illumination (Selected area illumination )
Boundary selection is set by mouse clicking on image. Laser illumination amount can be adjusted by moving speed and laser intensity
Demo Movie 2 Laser cell selection (Pulsedlaser)
Selected cells are killed by laser illumination in closed chamber. Observation is fluorescent
Demo Movie 3 Object tracking
Laser illumination with image analysis (intensity analysis) is also possible


Product name: Sterile-cam USB (STC-USB-M01, -C01)

We provide availability of USB3 camera to your experiments in a sterile environment.
Feature 1: versatility of camera function
•
Direct control by PC with USB3 cable
•
Mechanical connection of C mount and camera screw
•
Time lapse image capture by attaching software
Feature 2: accept sterilization process
•
Can be applied to H
2
O
2
sterilization process without cover
Comparison of Decontamination and Sterilization
•Some virus and bacteria can remain after Decontamination process
•
No virus, bacteria and cells remain after Sterilization process
Picture of Sterile-cam USB
Specifications
  Size: 56mm x 56mm x 135mm (excluding protrusions and cables)
  Weight: 800g
  Sensor type: 1/2" CMOS (monochrome or color)

  Number of pixels: 1.3Mpixels ( 1280 x 1024 )
  Data interface: USB3( cable length: 2m)
  Lens mount format: C
 •Attaching Software
  Camera Explorer (Baumer): capture still images and movies
  Time lapse image capture (Pinpoint Photonics): continuous image with fixed time intervals
          Captured image files can directly opened and converted to movie file by ImageJ.
          Movie examples captured by attaching time lapse software and converted by ImageJ.

Remarks
Sterile-cam USB accepts only H2O2 Sterilization, it does not accept other sterilization process such as EOG and autoclave.
Option
•
In case C mount lens cannot accept sterilization process, we can supply lens cover for H
2
O
2
Sterilization process as an optional tool
(maximum lens size: 35mm in length, 30mm in diameter)
Application hearing software
Image analysis / edge detection software developed by UCLA Prof. Bahram Jalali laboratory

Comparison with previous edge detection software
Feature of PST
Feature 1: textures and features are detected similarly without any influence of brightness
•
PST helps to detect stable image characteristics to improve precision of image based AI
Feature 2: specimens are easily detected however illumination is insufficient
•
PST realizes long time observation of photo toxic specimens (cells)

Feasibility test1: stable texture detection against different illumination level
Background:
As a texture value which is used in image based AI analysis and machine learning is based on pixel intensities, the value changes with illumination level. And a morphology value which is also used in AI analysis may change with boundary width.
Test result:
We prepared intentionally made 6 images with different illumination. However the texture values are varied with different illumination level without PST, the texture values are stabled with PST
Feasibility test 2: cell daughter analysis from dark images with 1/4 brightness
Background:
It is hard to make cell daughter analysis with photo toxic cells because cells have damages from illumination.
Test result:
By applying PST on time lapse images whose brightness level is darkened to 1/4 level, cell daughter analysis of B cells is successively made. Collaborator:  Prof. Alexander Hoffmann, Signaling Systems Laboratory, UCLA
As a collaboration work with Prof. Jalali, Pinpoint Photonics, Inc. is searching business application of PST